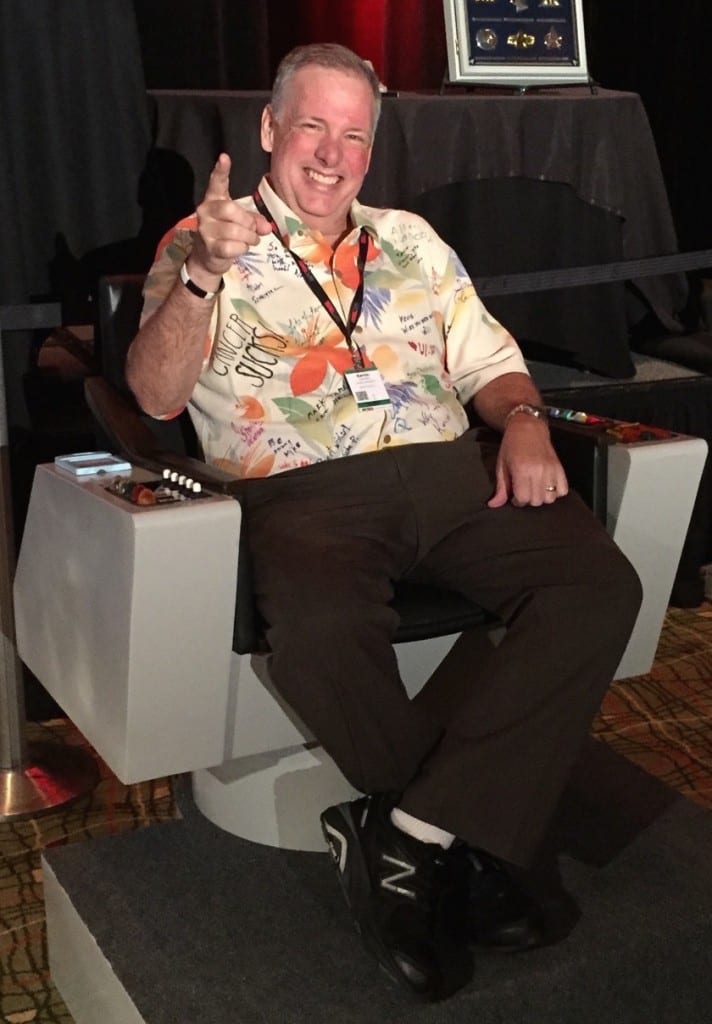 On May 5 2015, the Apple community lost Kevin Lockey — a consultant in the Bay Area. Many of you may know that Kevin has been fighting a particularly rare and devastating cancer for a while now. His strength, his positiveness, and his outlook may have you caught off guard by this news. If that's the case, it's a pure testament to Kevin and his personality.
Kevin was all about celebrating life, and sharing. With that in mind, take a moment a post something about Kevin, your relationship, or a funny story to share.
Comments may be used in an upcoming tribute in MacTech Magazine, or other places to celebrate Kevin's life. We will review your entry and unlock it as quickly as we can.
Log in to post an entry
26 entries.
Kevin and Kari, my love to you and your family: Kevin in heaven and the rest of us here. Kari worked tirelessly fighting with the "health care" company getting approval for surgery and in a thousand other ways backed him up. You both are astonishingly positive, energetic, caring beings and I feel lucky to have met you. I will miss Kevin. Kari, please let me know how I can help during this time of loss. I will never forget our crossing paths in NOLA and your kindness always.
As Roonie Roche aptly writes, Kevin Lockey was "a big man with an even bigger heart." He was a presence. He was a doer, an organizer, a facilitator, an advocate, and or course, he loved and lived Apple and the collective engagement on behalf of the company that intertwined with our livelihoods. Partnering with the generous Alberto Palacios of Create More in SF, he brought in the Bay Area ACN Nor-Cal village, orphans from the terminated Apple Authorized Business Agent program, and a host of " irregulars" looking to peek into, or enter, a growing tent via meetings in Alberto's 4th Street SF business basement.

Kevin was producer and impresario. Proximity to the Mother Ship was a natural resource he mined on our behalf. In the monthly gatherings, we traveled in from around the Bay Area and some from parts well beyond. Invariably, we listened, we studied, we learned, we mingled, we extolled and griped, and we came away with a solid collection of very good days.

Kevin's presence, of course, moved far beyond the region, in which i knew him only through these gatherings and his phone calls and emails prodding me to get further involved in some activity. I'm appreciative of all those here who have added to a more complete tapestry.

I last saw Kevin at MacTech Pro SF at the end of March and had not known about his illness. He sat at a table outside the conference room engaging folks as they came out. He stood up, strangely thin. We talked. He was surprisingly upbeat. He wore his usual Hawaiian-style shirt. It was filled with autographs of folks attending MacTech Conference last November, which he went to shortly after major surgery. Too shortly, he offered, and then smiled.

Kevin, you will be missed, but not forgotten.
I met Kevin for the first time at the recent MacTech event on the 25th. I'm grateful to have taken the extra time to have been introduced to him and heard about his battle with cancer. His strength and determination through this trial was absolutely amazing.

It would have been so easy to close up to the world, but Kevin took the opportunity to speak out in any way he could about his illness in the hope that he could enlighten and inform us.

He left a lasting imprint on me and he won't be forgotten. Thank you Kevin for all you've shared.
Kevin recruited me to join the ACN program. We carpooled into many SF chapter meetings together. I always looked forward to those commutes since Kevin was so willing to share his experiences and knowledge. I was frequently impressed with how Kevin could reach out to others not only to share but to insure their success. His love of all things Apple and all things related to his kids sports photography was infectious. Kevin and I had lost touch over the past few years, but I alway knew he was one of those people who was just a phone call away - if only just to say hi.

I'd recently learned of his health issues and had wanted to reach out and let him know how much I was pulling for him. Via the acn-alumni list I learned of his passing. It is my loss by not making that call - if only just to say hi. It's something I will regret forever. My thoughts and prayers are with his family. I will never forget all their smiling faces at the crack of dawn when we'd meet up to leave for SF.

I look forward to future conversations with Kevin when we are able to cross paths again.
I have known Kevin for nearly 20 years. His passion for helping others, as well as Apple technologies, was unprecedented. No matter how busy he was, there always seemed to be time to listen and help those that were around him.

It was quite common for Kevin to engage with people he had just meet and spend time getting to know them. I could always hear laughter coming from the group around him.

He was a real people-person that genuinely cared about others and was always willing to help out. I am going to miss our lively conversations about IT and business in general.
From the moment I met Kevin at one of the Apple training camps in the early 2000s, his warmth, friendliness and sincerity set him apart from all the other new folks getting into the community. Kevin quickly became a good friend and someone I could always rely on to bring humor to any situation and he just lit up the room every time he walked in.

I've had many clients in the bay area work with him when they were traveling and they all remarked on how much of a "great guy" he was. Kevin was someone who was so genuine -- what you saw is what you got -- and I'm going to miss the fun times we've shared together.

His ability to pull people together for a common cause is a testament to how much people cared for him. When Kevin called, you said "yes." He really epitomized the type of consultant I've always strived to be. He also had such a big heart and an infectious laugh. It was such a part of him that I'm actually smiling as I writing this thinking of him laughing. I'm going to miss you a lot, buddy.
I met Kevin just after realizing that i could make a career working with Mac around 2005. I knew of the ACN program but heard from other tech's that the fees were too high and benefits not commensurate with the cost. Kevin strongly encouraged me to take a chance and to try it out.
He was in instrumental in organizing a Bay Area ACN Certification Study Group that got me certified. I attended, I passed and the rest, as they say, is history. Joining the ACN back then was without a doubt the best single effort I gave my new career and I met other ACN's along the way.
Thank you dear Kevin.
Kevin was an exceptional person on so many fronts. He was passionate and dedicated to his family, his work, his friends and colleagues and to having fun. Who can forget his wonderful smile and always up nature. He was kind and welcoming to new friends and always loyal and engaging with his old friends. He provided unconditional leadership to the SF area ACN Chapter and to ACN as a whole. He was always willing to share time and energy to help his colleagues. He could be very pointed in his critique when things were not working the way they should in our ACN organization that made us all sit up and think about what he said, and how we could help make it better. Most of all, I enjoyed Kevin's Zest for Life and his passion for things that he was interested in. Who can forget his enjoyment of being a volunteer at the America's Cup events in San Francisco? He will be missed, but stands as a great example of how we should all strive to conduct our personal and business lives. RIP Kevin!
I always enjoyed seeing Kevin's smiling face when I walked into the speaker lounge or a session at a conference, training, dinner, or other Mac event. He was a great guy, genuine, passionate, and always surrounded by friends and colleagues. I'm glad I had the opportunity to know him. He will be missed.
I remember meeting Kevin many years ago through the ACN program. He was always very kind hearted and very engaging in conversation. Although it's been awhile since I've last saw him, I remember how he always used to drop hints about me bringing my cooking trailer for an ACN meeting. Yes, he was very committed to both the ACN program and his fellow colleagues.

Along with hundreds of other people, we will surely miss his kindness, warmth, and infectious smile. Thank you Kevin, for being you.
Kevin was one in 1 million. A big man with an even bigger heart. His sense of giving, his sense of righteousness and his sense of caring was beyond all. I met him through the ACN program bonded through a love of all things Macintosh and our mutual desire to help others with their computers. Kevin was always there to champion our ACN groups and then just hang as friends. Words cannot express how much I will miss him.
I met Kevin just after realizing that i could make a career working with Mac maybe 2005. I knew of the ACN but heard from other tech's that the fees were too high and benefits not commensurate with the cost. Kevin strongly encouraged me to take a chance and to try it out.

He was in instrumental in organizing a Bay Area ACN Certification Study Group that got me certified. I attended, I passed and the rest as they say is history. Joining the ACN back then was without a doubt the best single effort I gave my new career and I met other ACN's along the way.

Thank you dear Kevin.
I was struck from the beginning with Kevin's commitment to fellow members of the ACN community. Each time he called, I knew I was in for a very long conversation about needing to support the many small consultancies in the program and building that sense on community. He grew frustrated when those he was trying to help, would not participate in the chapter meetings, or would complain about trivial things. There were falling outs and reconciliations. Kevin just never gave up. He was just so passionate and caring.

It was during our last conversation that I learned he was ill. He was wondering if he should renew his membership even though he hadn't had the energy to complete his certifications. We discussed, that we'd be here, just to focus on getting better. I'm so sad that I didn't get to speak with him after that. Kevin will be dearly missed.
Kevin will be remembered as a helpful and friendly voice in any gathering; a genuine and caring soul who always stepped up for the good of the ACN community and community in general.

It is a privilege to know Kevin as friend and colleague.

"From joy people are born; for joy they live; in joy they melt at death. Death is an ecstasy, for it removes the burden of the body and frees the soul of all pain springing from body identification. It is the cessation of pain and sorrow." - Paramahansa Yogananda
Kevin became a dear friend to me over the years. He was kind, funny, generous, wise, and an incredibly good man. I looked forward to our times at MacWorld with the group every Winter in California, and also every time he and Kari visited NY for Broadway. He always brought light into a room, and was selfless on many levels. My heart is broken a little with his passing. There will never be a day, however, from now on, when I see a Tommy Bahama Hawaiian shirt that I won't think of good ol' Kevin. RIP, my dear brother.
I first met Kevin back about 10 years ago, and we became fast Mac friends. Once we got to know more about each other, we discovered one of our mutual interests: the hatred of Cancer and our support of the Livestrong Foundation and their Livestrong Challenge bicycle rides.

His own relationship to Cancer started long before his diagnosis: his first wife died of cancer when she was in her early 30's, and my own relationship with the terrible disease (my wife, father, father-in-law, and two young friends). I was lucky to be able to cross that Livestrong Challenge finish line with some of those people while they were still alive, but battling cancer. It's my goal to keep crossing that finish line long after their passing.

After Kevin's diagnosis, we went to the Livestrong Challenge in Davis, CA, where Kevin and my wife, shortly after Kevin's diagnosis, crossed finish line in the "I'm a Survivor" lane, hand in hand. It was a sight I'll never forget.

A short 2 years later, we've lost Kevin to that dreaded disease.

Despite that history of cancer, we had some great times with the Lockey family: We visited with them every year around MacWorld SF and MacTech Conference in Los Angeles - sharing family vacations to the San Diego Zoo, Disneyworld, and sites around San Francisco. We met them in New York for a short while during one of their annual visits for Broadway shows. The entire Lockey family stayed at my house two summers ago for nearly 2 weeks for their visit to DC.

These visits allowed me to understand Kevin's approach to small business and his Mac Coaching job. His first loss taught him much about life: it's more about family and friends, and time spent with each other, than it is about working all the time. Kevin was happy working even just 3-4 hours a day, because the rest of those hours was spent with people he loved.

It's safe to say that Kevin will be greatly missed, and his lessons on life will live on in everyone he touched. He will be forever in my mind, my consulting, and his family in my prayers.
Kevin was a genuinely sweet, thoughtful, kind, and helpful man. He didn't ask for much from others and always gave of himself. He showed genuine concern for the communities to which he belonged in a way that had nothing to do with promotion or profit or really even business. Kevin made me feel, every time we talked, that he cared because we were friends. I will miss him.
The Apple community is full of good people. Extraordinary people. But every once in a while, someone stands out and makes an impression. Sometimes it's because of their talent or smarts. Sometimes it's because of their joy to be part of the community. And sometimes it's just because it's so genuinely apparent that they are, to their core, a good, caring person. Our friend Kevin was one of those people. Always so generous with a compliment or encouragement. Always someone to express appreciation to a host at an event. Always thoughtful and constructive in his feedback - feedback given not to benefit himself, but to benefit the community he loved so much. I'll miss you, my friend, and at any gathering of the community, I'll raise a glass to all you contributed to our well being. Rest in peace, good man.
My dear sweet friend Kevin, after 25 years of friendship, we've been though so much together. We've been through you losing your first wife, Michele, to cancer and you were my rock during a difficult divorce. We've been through both of us finding new mates, and births of our children. We've been through us both taking a risk, and each venturing out in our own Mac consulting business. You helped shape my leadership and management skills.

Through the many community events, people often thought we were married – I was your "east coast wife" as you used to say. You were so much about your family, our tech community, and the world around you. You believed wholeheartedly on fundraisers like Livestrong. Even when were sick, you volunteered at the America's Cup the whole time — and beamed about it. And, after a surgery that you almost didn't survive, nothing was going to stop you from showing up several weeks later at MacTech Conference to be with your cohorts and friends.

Kevin was always looking up, and not down, and his big beautiful smile and deep bold laugh could make anyone smile. I'll miss those words "Hi Kim, it's Kevin." Rest in Peace my dear sweet friend ~Only the good die young~
It was a shock when I learned of Kevin's passing. I had been seeing him on Facebook and thought that he was recovering smoothly. During my time at Apple, I got to know many ACNs, in particular those who gathered twice a year at MacWorld and WWDC (back when you could actually get a ticket to the thing).

Kevin was one of the ACNs who was always cheerful, with a smile on his face, a nice Hawaiian shirt, and a willingness to help new ACNs, or Apple SEs for that matter, or anyone who stopped by the ACN booth at MacWorld for some assistance.

It saddens me to know that I will never have the pleasure of speaking with him again.