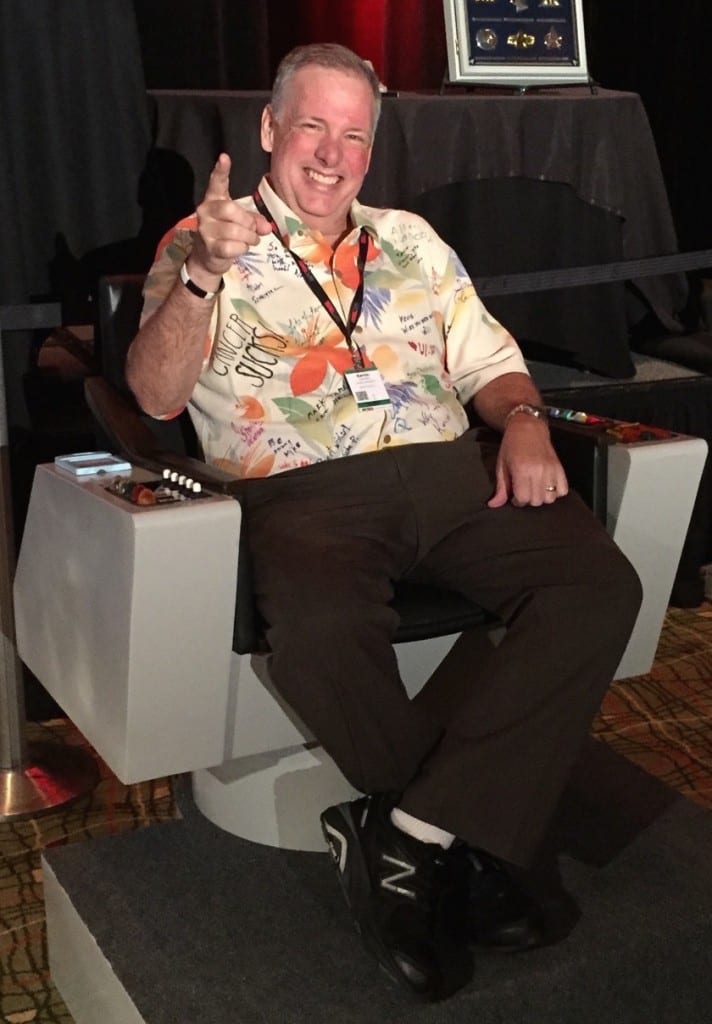 On May 5 2015, the Apple community lost Kevin Lockey — a consultant in the Bay Area. Many of you may know that Kevin has been fighting a particularly rare and devastating cancer for a while now. His strength, his positiveness, and his outlook may have you caught off guard by this news. If that's the case, it's a pure testament to Kevin and his personality.
Kevin was all about celebrating life, and sharing. With that in mind, take a moment a post something about Kevin, your relationship, or a funny story to share.
Comments may be used in an upcoming tribute in MacTech Magazine, or other places to celebrate Kevin's life. We will review your entry and unlock it as quickly as we can.
Log in to post an entry
26 entries.
Kevin was at just about every Mac event I've attended and he was always quick with a smile and to say hello. It was obvious to everyone that he was a genuinely happy person with a kind word and attention for anyone who needed it. He was warm, welcoming, connected and simply put, the kind of person everyone wants to be around.

I'll miss him for many, many reasons, but the most important one is that he actively made the world a better place for all of us. His loss is a loss for all of us.

Travel safe Kevin.
It is simply put. Kevin was one of the good guys. Smart, personable, and a human you liked being with. Humorous, serious, solid. Well, there were the Hawaiian shirts, but everyone needs their thing, right? He reflected well on our industry and as a person. I am proud to have had him as a friend. He will truly be missed. Stupid cancer.
With a smile as large as life, Kevin was a beacon of grace and charm. It's useful to know, Kevin spent much of his life in the service of others. Whether it was in the Mac community, the school system, sports or opera, Kevin was alive with knowledge and boundless energy. Even in the difficult past year, he persevered to give of himself as long as he could. A wonderful husband, father, friend and, just a genuine guy. His loss is a loss for us all and will be felt for many years to come. Farewell happy guy. Our hearts are indeed heavy.
Kevin was the best of the best. I always looked forward to seeing him at the San Francisco Macworld/iWorld events. He was funny, warm, friendly and always willing to lend a hand. He will be missed.
Yep, Kevin was a sweet, smart man. Always a pleasure to be near him, and someone I've admired as the kind of guy I'd want to have have looking out for me.

His personality led to some great memories as well... hanging out with fellow Apple Consultants Network members at camp, training events, and anywhere else he could spread some happiness.

I'm happy to have known Kevin and his family, and to have brought at least some happiness to the Lockey's along the way.

Peace be with you.
-Allen
I've had the privilege of knowing Kevin for years. His energy, his willingness to help others, and his desire to be a part of all that he could ... and then share that ... is beyond what anyone can describe. I'll miss you my friend. Simply put: You made our community, and our world, a better place.